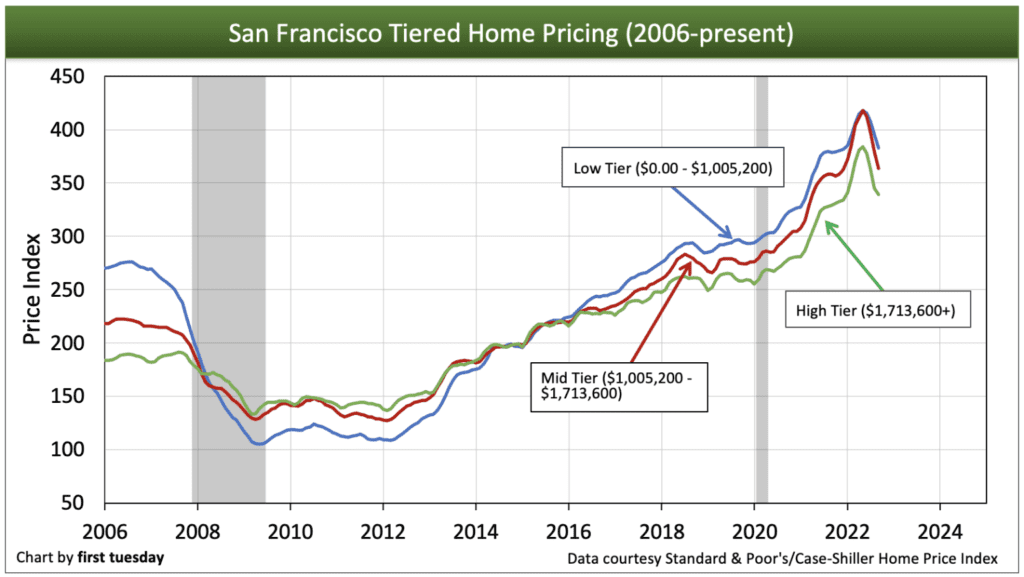 Posted by ft Editorial Staff | Dec 2, 2022 | First Tuesday Journal
Home prices continued to nosedive in all tiers across Los Angeles, San Francisco and San Diego during September 2022, the result of reduced purchasing power and buyer panic as sales volume recedes.
Home prices have fully reversed course from their May 2022 peak, ranging from 6% below the peak in the low tier to a staggering loss of 9% in the mid and high tiers. Still, average home prices remain a tenuous 5% higher than a year earlier for low-tier prices, 6% higher for mid-tier prices and 8% higher for high-tier prices. This year-over-year spread is narrowing rapidly, to turn negative near the start of 2023.
Home prices in 2018-2019 had cooled to the point of keeping pace with incomes — then, the 2020 recession and pandemic struck. To keep the economy from sliding during the global health emergency, the Federal Reserve induced historically low mortgage rates in 2020-2021. Enabled by the resulting unprecedented gains to buyer purchasing power, home prices surged even as we worked our way through the 2020 recession and distorted Pandemic Economy.
In 2022, interest rates have leapt from historic lows, removing all support for home prices. Thus, today's price decline was easily anticipated. Watch for prices to continue to fall back in the months ahead, slumping below 2019 levels by 2024.
California's housing market is being dragged down by the encore to the 2020 recession. This time, government interference will be limited, as the Fed continues to fight high consumer price inflation. Further, while home prices rose like a rocket in 2020-2021, they are falling like dead weight, not expected to find a bottom until around 2025. Then, prices will gradually rise during the recession's recovery. This timeline will be complicated by global events and any further (unlikely) government stimulus which may occur.