County Housing Market Summary – California Association of Realtors (C.A.R.)
Take a look at these annual side-by-side comparisons to see how your county sales and affordability hold up next to the state and country as a whole. Indicators provided are sales, median prices, supply, and affordability.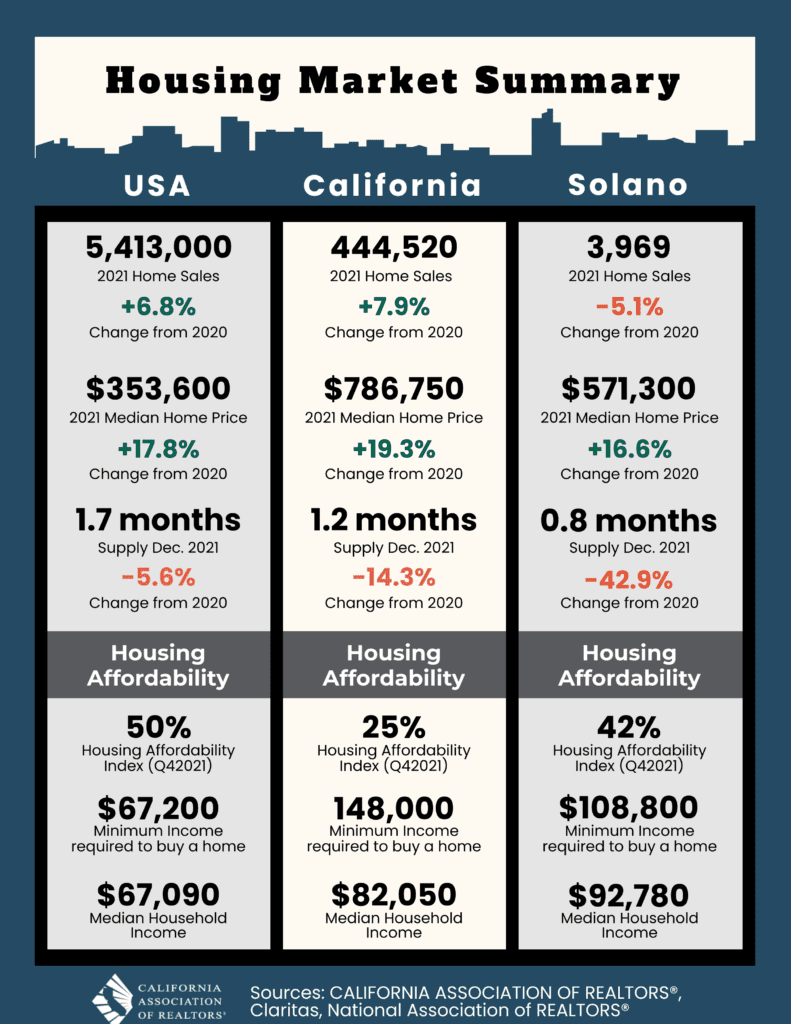 Glossary of terms
Median Price: The price point at which half of homes sold for more and half sold for less.
Home Sales: Number of units of existing single-family home sold.
Unsold Inventory Index: Number of months it would take to deplete the remaining inventory at the end of a month with the sales rate of the month in consideration. Inventory includes listings with "Active", "Pending", and "Contingent" (when available) statuses.
Median Time on Market: Number of days properties stay on the market before escrow opens. This measure is the midpoint at which half of homes sold stay on the market longer and the other half stay on the market for a shorter period of time.
MTM: Month-to-month percent change when compared to the previous month.
YTD: The percent change of the cumulative year-to-date sales to the same period of the previous year.
YTY: Year-to-year percent change when compared to the same month of the previous year.
Feel free to email us your questions, feedback or other comments to research@car.org.
Note: The median price and sales data depicted in the graphics are generated from a survey of more than 90 associations of REALTORS® throughout the state and represent statistics of existing single-family detached homes only. City sales data are not adjusted to account for seasonal factors that can influence home sales. Movements in sales prices should not be interpreted as changes in the cost of a standard home. The median price is where half sold for more and half sold for less; medians are more typical than average prices, which are skewed by a relatively small share of transactions at either the lower-end or the upper-end. Median prices can be influenced by changes in cost, as well as changes in the characteristics and the size of homes sold. The change in median prices should not be construed as actual price changes in specific homes.
Click here to see how other California counties compare.